2021 CCW Sauvignon Blanc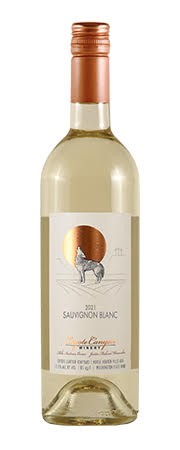 Can a Sauvignon Blanc taste like a Sauvignon Blanc because this wine is loaded with traditional and typical aromas and flavors. The aromas scream of lemon, star fruit, and essence of fresh-cut grass with a lingering tart finish. The flavors are warm and inviting. Slightly sweet notes start and cover your mouth before the acidity kicks in. Peach and pear flavors linger on the palate. This is an especially well-balanced and easy-drinking wine for all occasions.
Wine Specs
Appellation
Horse Heaven Hills
Vineyard Designation
Horse Heaven Hills AVA
Harvest Date
September 2021
Bottling Date
February 2022
Wine Profile
Tasting Notes
Stone fruit notes mixed with light citrus, a touch of cut grass, and grapefruit. The flavors are bright and refreshing, some nectarine, white peach and lime. The acidity is soft and slightly tingly. Great for summer sipping or paired with seafood.
Awards
Gold 2022 Artisan Awards , Silver 2022 Cascadia Wine Comp
Vineyard Notes
2021 was a very interesting vintage. We started off the spring nice and smooth. Temperatures slowly warmed and the grapes were developing nicely. In late June we had a heat spike that impacted the rest of the vintage. Triple digit temperatures for over 45 days ended up slowing berry development resulting in a smaller crop load. The flavors from this vintage are intense. The wines are going to drink great in their youth, loaded with fruity flavors. The tannin and acidity in the grapes are going to help them age gracefully as well.
Winemaker Notes
Stainless steel all the way with this varietal. I want to keep the wine fruit forward. These first few vintages have shown bright fruit characteristics with only a touch of grass. The finish has some great grapefruit and citrus qualities. We planted our first Sauvignon Blanc in 2016 and harvested in 2019. It is a varietal I have always enjoyed drinking, so when Mike planted some I said we had to make a little. We machine harvest and ferment at a cool temperature to extend primary fermentation. The wine ages for six months prior to filtration and bottling. Made drink now or over the next 5 years.
Food Pairing Notes
Great for summer sipping or paired with seafood.