2014 CCW Graciano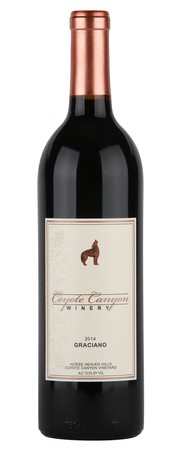 Wine Specs
Vineyard Designation
Horse Heaven Hills AVA
Wine Profile
Tasting Notes
Big and luscious, this wine truly is a mouthful. A deep dark red color lets you know right away this wine is going to be something special. Hints of licorice, currents and oak are noticeable early but the wine continues to release earthy tones like Morels and tea leaf. The flavors are an intriguing mixture of black current jam, tar, oak and tea. Robust tannins linger on the finish, this is a well-structured wine with balance and a nice long after taste. Blend Composition: 92% Graciano, 8% Grenache.
Awards
Best of Varietal 2017 North West Wine Summit
Vineyard Notes
2014 was a hot vintage in Eastern Washington. Overall the Coyote Canyon vineyard fared very well and had great fruit. Summer was hot and steady, but the good news was we didn't have a lot of days over 100 degrees which allowed the crop to ripen at a nice even pace. When Fall arrived, the grapes were ready about a week ahead of schedule. Graciano is a grape typically used as a blending component in Spain and has large clusters that tend to ripen towards the end of harvest This block of Graciano was handpicked and then de-stemmed at the winery. The fermentation took about 12 days and the wine was left on its skins a week after that. After 18 months in oak barrels the wine was bottled.
Winemaker Notes
It has been really cool getting to work with Graciano. I was intrigued by it my first year at Coyote and thought that we should consider making a standalone wine with this varietal. The color is amazing and the fermentation aromas are unique making this a fun wine to make. The alcohol is a little higher than I was anticipating but sometimes in wine-making you just go with your gut. When tasting the grapes and making a picking decision it just seemed like this block needed extra hang time to develop all the flavors I was looking for. The wine reminds me of a Primitivo mixed with Cabernet Franc, the wine has a big jammy mouth feel with lots of earth characteristics.